Frank Soulpusher relaxes at home after one his infamous African digs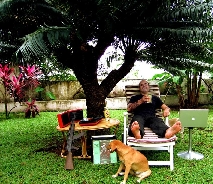 Pictures from the CHSR studios, Waxing Deep's new home. Shcokingly, CHSR's gear is leagues beyond CKUT's. Mind you, CKUT never suffered power outages mid-broadcast...
New Waxing Deep Promo Video!(Click the image on the right to download the avi)
Digging for records in Buenos Aires
Argentina=Soccer+The Falklands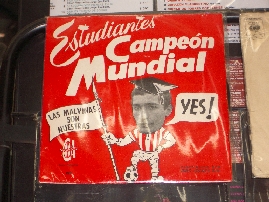 Soultrut boss Raj Mahal descends on Waxing Deep HQ for a weekend of digging with his goons Otisfunkmeyer and Delay. Note the Soulstrutmobile--swanky!
Listening to the Jeremie OST with its composer, Lee Gagnon. Look for future Waxing Deep projects with Mr. Gagnon.

Famed collector John Usher introducing Waxing Deep listeners to disco-rap obscurities from Beer, a seaside idyll in Devon. Check the music section to hear a truly weird sea-shanty disco fusion.
Disco Gui showing off his secret jazz lust during the funding drive edition of Waxing Deep. We raised a surprising amount of much needed cash for CKUT while having a blast listening to disco raer.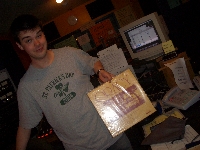 Soulstrut's aleit aka DJ Ari 'Poogy' Leichtman during a one-off party at Blizzarts. Heavy Afro-Caribbean sounds.

Spreading the talcum around at Tempo. Good times had by all! Look for number two this January.
On the hunt for records in Quebec's Eastern Townships. In 1973, a too-heavy Ethiopian Airlines 737 en route to Addis Ababa jettisoned some freight, including a box of promo Mulatus. Miraculously, the boxes landed in a Quebec field and survived the impact. The owner, a farmer named Guillaume, stored the records he found. Below A Man Called Warwick, Jon Sikich, and Dino Leo after discovering the 'record' tree house.
Lotusland's Tom Noble gets down Milwaukee style on Waxing Deep radio with some extraordinary records. Good times. Noble is a funk archivist par excellence and has a collection that makes me jealous. Very jealous. He's not welcome back. Check out the show..
Ladies: Mr. Noble is concerned that you may not find his 2AM self as appealing as his during the day self. Click on the following picture to see everyone's favourite jetsetting boulvardier from Milwaukee at his suave best.

A Man Called Warwick honours Waxing Deep with a crazy set of Afro, reggae, jazz, and the deepest of the deep. A Waxing Deep mentor. You absolutely must travel to Toronto to experience his Turning Point nights. Next level business. Check out the Show.
Ron Eazy pretends he's playing the bigroom during Waxing Deep. Those Hamilton kids know to wave their hands in the air like they just don't care. Listen in.
Acting the goat while playing at a Moondata party. No one appreciated the humour or the music. C'est la vie.

Montreal DJ/archivist/jazz collector Andy Williams poses beside his collection.
Montreal's infamous record basement. Can you spot the heat? No? Well, that's because there is none. Still, where else can you dig for records while enjoying abundant used porn?




Extra Bonus! Download the first ever Waxing Deep promo video now making the rounds on Kazaa!